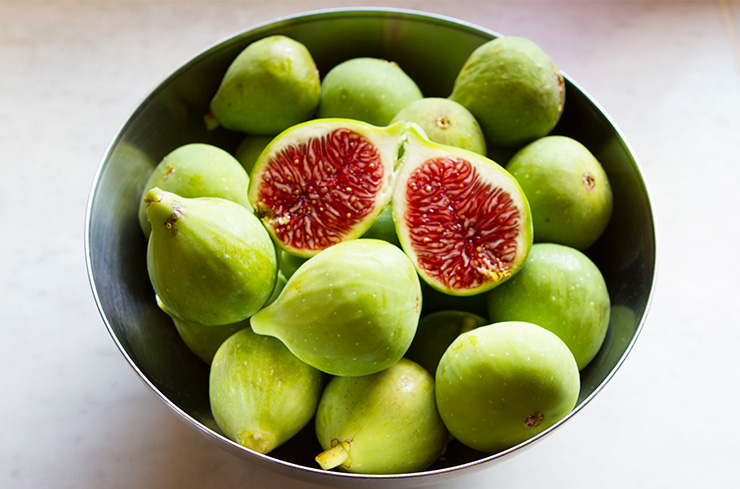 Figs are amongst the oldest fruits consumed by humans. We have managed to put together most of the benefits of figs here. Have a look
The Health Benefits Of Figs
1. Enhance Digestive Health
Figs relieve constipation and improve the overall digestive health. Soak 2-3 figs in water overnight and consume them with honey the next morning, and you can bid goodbye to your constipation woes.
2. Improve Heart Health
Figs reduce the triglyceride levels in your blood and contribute to improving your heart health
Triglycerides are fat particles in the blood that are a leading cause of heart diseases. Also, the antioxidants in figs get rid of the free radicals in the body, which block the coronary arteries and cause coronary heart disease
Figs also contain phenols and omega-3 and omega-6 fatty acids that decrease the risk of heart disease.
3. Lower Cholesterol
Figs contain pectin, a soluble fiber that is known to reduce cholesterol levels (5). The fiber in figs clears the excess cholesterol in your digestive system and carries it to the bowels to eliminate it.
Figs also contain vitamin B6 that is responsible for producing serotonin. This serotonin boosts your mood and lowers cholesterol.
Dry figs reduce the overall cholesterol as they contain omega-3 and omega-6 fatty acids and phytosterols that decrease the natural cholesterol synthesis in the body.
4. Prevent Colon Cancer
Regular consumption of figs can lower the risk of colon cancer . The fiber in figs helps to eliminate the waste in the body quickly, which works well for the prevention of colon cancer.
The numerous seeds in figs contain high levels of mucin that collects wastes and mucus in the colon and flushes them out.
5. Cure Anemia
Lack of iron in the body can cause iron-deficiency anemia. Dried figs contain iron, which is a key component of hemoglobin. Consuming dried figs was found to improve the hemoglobin levels in the blood .
Growing children, adolescents, and menstruating and pregnant women specifically should monitor their iron levels to avoid complications. Also, if you are ill or have undergone surgery, include figs in your diet to increase the iron levels in your body and deal with the problem efficiently .
6. Lower Sugar Levels In Diabetic Patients
Not just the fruit, but the leaves also have benefits for your health. Fig leaves have amazing properties that help regulate your blood glucose levels. According to a study, including fig leaves in the diet helped control the rise in blood sugar post a meal in insulin-dependent diabetics
You can consume fig leaves in the form of tea. You can boil 4-5 fig leaves in filtered water and drink this as tea. You can also dry fig leaves and grind them to obtain a powder. Add two tablespoons of this powder to a liter of water and boil it. Voila! Your tea is ready!
7. Prevent Breast Cancer
Figs are amongst those fruits that contain the highest amount of fiber. And it was found that women who consumed more dietary fiber during adolescence and early adulthood were at a lesser risk of falling prey to breast cancer
High intake of fiber was associated with 16% lower risk of overall breast cancer and 24% lower risk of breast cancer before the onset of menopause
ig extracts and dried figs are known to contain elements that help in preventing postmenopausal breast cancer
8. Strengthen Bones
Figs contain calcium, potassium, and magnesium, all of which aid bone health . Figs improve bone density and decrease the breakdown of bones, which begins as you age. Calcium is crucial to maintaining healthy bones and figs are one of the best sources of it .
Figs contain potassium that counteracts the increased urinary calcium loss caused by high-salt diets . This prevents your bones from thinning out.
9. Rich In Antioxidants
Figs are a powerhouse of antioxidants, and they neutralize the free radicals in your body and fight diseases. The riper a fig is, the more antioxidants it contains.
Figs are a rich source of phenolic antioxidants. The antioxidants in figs enrich the lipoproteins in plasma and shield them from further oxidation
10. Regulate High Blood Pressure
Studies show that including figs in your daily diet helps to lower blood pressure . The fiber in figs lowers the risk of high blood pressure whereas the potassium content of figs helps maintain it